Workshop tip: Quick-Grip-style clamps assemble miters quickly and accurately
This technique works for all kinds of frames, thick and thin, small and large, and also on boxes.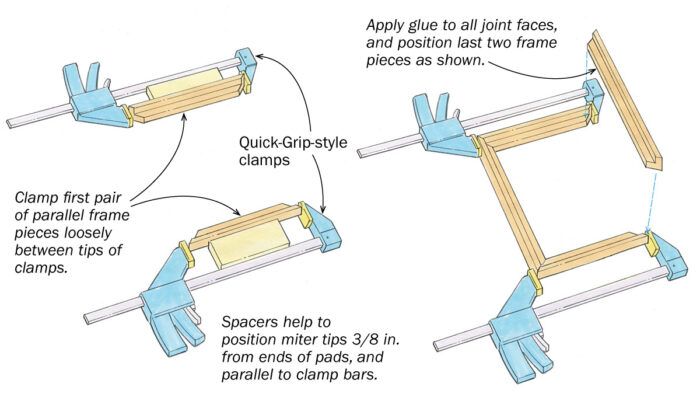 After trying numerous jigs and doodads for clamping mitered frames, I found that Quick-Grip-style clamps provide the most straightforward and effective method.
First, place two parallel pieces separately in clamps, with the tips of the miters slightly outside the centerline of the clamp pads (roughly 3/8 in. from the ends). To make sure the parts are positioned accurately, it helps to use spacers as shown. Use just enough clamp pressure to hold these first two pieces in place.
Next, apply glue to the miters and slide the two remaining pieces into place. The soft clamp pads allow these pieces to slip in, aligning their tips pretty well in the process.
To draw the miters together, position two more clamps perpendicular to the first pair and tighten them gently. Now increase the pressure on all four clamps, checking the miter alignment as you do so. When the joints are tight and accurately aligned, you're done. To align the joints in the other direction, feel free to pinch more clamps across their faces.
I've used this method for all sorts of frames—thick and thin, small and large—and it works on boxes too, with a set of clamps at the top and bottom edges. This method is quick, easy and direct, with nothing to set up and nothing to fiddle with.
—BOB PETERSON, Portland, Ore.
Illustrations by Dan Thornton
From Fine Woodworking issue #298