Workshop tip: Bottle corks make good drawer stops
Cork disks are easy to adjust and bring the drawer to a cushioned close.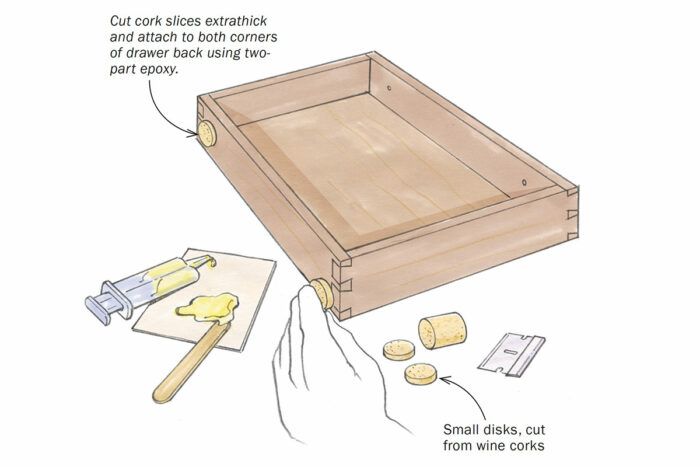 The usual way to create a drawer stop is to glue it onto the lower part of the pocket (usually a rail of some kind), where it will catch the inside edge of the closing drawer front. But it's awkward to figure out exactly where to attach the stop so it arrests the drawer in the perfect position. Instead, I attach cork disks to both sides of the drawer back. Wine and champagne corks are perfect. Cut each slice a little too thick and attach it with 5-minute epoxy. Once the epoxy is set, you can fine-tune the drawer position by shaving each disk with a coarse file. If you cut one too short, just glue on a little more cork. The cork stops are not only easy to adjust, but also bring the drawer to a cushioned close.
—DICK EVANS, Chatham, Mass.
Illustrations by Dan Thornton
From Fine Woodworking issue #298