When a woodworker buys a forest
Furniture maker Tak Yoshino pays homage to the forest his new woodworking school was built from.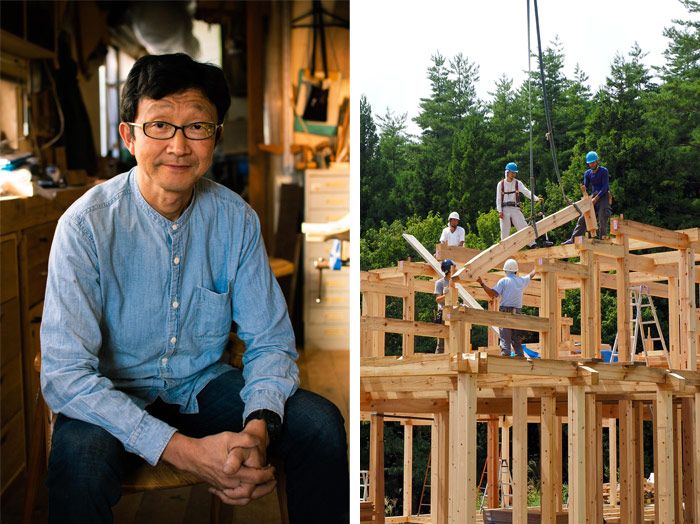 In 2023, you will be able to attend woodworking classes in Japan while gazing upon a forest at the edge of Mt. Fuji. Not only is Tak Yoshino is currently building a school where he bought a forest; he is building the school out of said forest. Mt. Fuji Wood Culture Society will indeed be open to the international community. This project is more than just a school, however. It fosters philosophies of making and promoting spirituality in woodworking through the relationship to timber–all exciting topics for woodworkers interested in silviculture and conservation. It's the woodworking trifecta of joy: community, education, and trees.
Tak Yoshino has many woodworking accomplishments with an international reputation as a maker. He makes wild and beautiful pieces, many out of local indigenous timber species. His Zen Round Back Chair is built of Japanese maple varieties. His reclining chair, built to fit like a glove with a hand-planed finish, fits perfectly to his body and is comprised of Zelcova and both Japanese and American Walnuts. Opening this school allows him to share his decades of knowledge and experience.
The most exciting part of this school is not the curriculum, but the approach to woodworking in general. The school will teach Japanese hand-tool methods and joinery but provide real impact on conceptualizing the philosophy of the trade. Woodworking is engrained in the relationship it has with trees. Tak is building the physical school with logs and timber felled from the forest next door. He felled over 250 pine trees 80 feet tall, many with diameters over 20 inches. He is watching the health of the new trees in regeneration: Japanese oaks, pines, and maples, cultivating the diversity of the forest.
The school and the space encourages one to look at material culture through a different lens: community. The school sits next to an existing gallery, one that showcases a journey of chairmaking through time and aesthetic influence: from historic painted Japanese Zelkova chairs right up to 20th century Danish modern forms. He began the construction work with his family and small staff, a total of six people. Construction has grown from the local woodworking community to include woodworkers and craftsmen from around the globe as they finish building.
To help finalize the schools opening and support the Mt. Fuji Wood Culture Society, please visit their new website here. Keep an eye on this for upcoming classes too! You can also follow the Mt. Fuji Wood Culture Society on Instagram @mtfujiwcs.
To see more pieces by Tak Yoshino, visit his Instagram account (@takyoshino) or check out his Zen Round Back Chair at the Center for Art in Wood here.
To follow along on this journey via social media, check out Tak Yoshino (@takyoshino) and Dylan Iwakuni (@dylaniwakuni). He makes beautiful videos about this project and his own journey as a woodworker.