Tools to look out for – Winter 2022
Jet AFS1000C air filter, WoodRiver rechargeable desiccant bag, Next Wave CNC Shark RS1000 Pro router table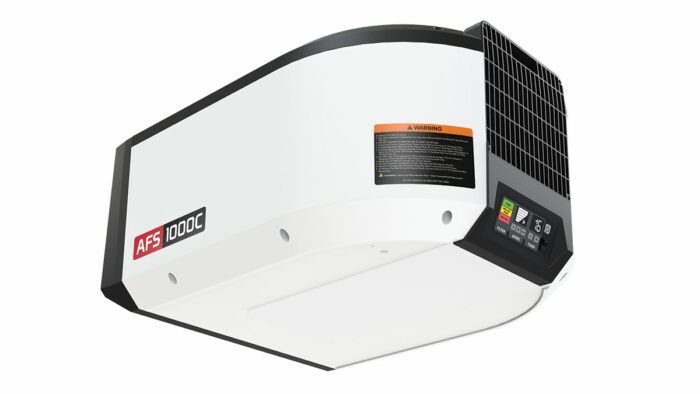 Air filter
Jet's AFS1000C detects dust levels down to 1 micron and can adjust the speed of its fan to suit the load. A remote allows you to manually change the speed or set the unit's timer up to 16 hours. The unit has a tilted LED screen that indicates the fan speed and timer setting, as well as the remaining filter life. The system weighs 41.8 lb.
Rust prevention
For keeping tools in enclosed spaces free of rust, WoodRiver has released a rechargeable desiccant bag. The bag is filled with 400 grams of silica gel crystals that can absorb up to 140 grams of ambient moisture. When the crystals are fully saturated, the blue window on the bag will turn pink. Simply microwave the bag to recharge it.
Computer-controlled router table
Next Wave CNC's Shark RS1000 Pro allows you to adjust your router's bit height and fence placement with computer-level accuracy. Using an LCD touch screen, you can set the fence along its 12 in. of travel and the bit height within its 31⁄2 in. of travel, both movable down to one-thousandth of an inch. The software accepts imperial, metric, decimal, and fractional measurements. It also has preloaded applications for common functions like box joints, dovetails, and dadoes.
Photos: Barry NM Dima