Tool Roundup: On the Horizon
A selection of some of the best new tools on the market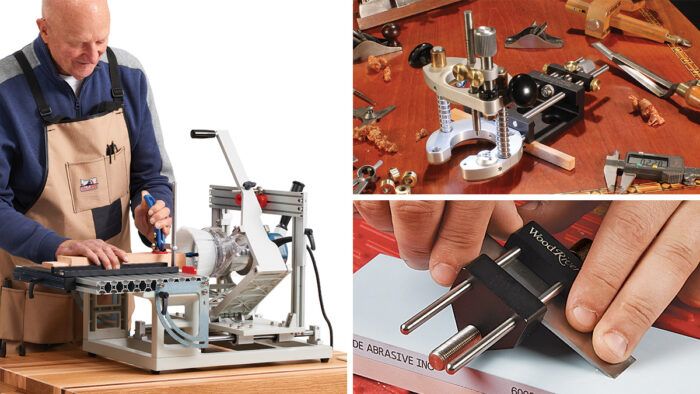 Triton fixed-base router
Available now, Triton's new TFBR001 is a heavy-duty 15A / 3-1/4 hp fixed-based 1/2 in. router purpose-built as an upgrade and replacement for the discontinued Porter Cable 7518. The Triton Fixed Base Router features extra-large heavy duty and maintenance-free sealed ball bearings, modern motor technology, a dust-sealed power switch with patented Triton slide cover, and is compatible with both Triton and Porter-Cable accessories and guide bushings. Soft start, electronic 5-speed control, Triton's interchangeable collet system, and dynamic load control make the TFBR001 a workhorse fit for modern industrial standards.
Click here for more information.
Micro Fence
Micro Fence began more than 30 years ago, with woodworker Richard Wedler and his father Jack, a machinist and toolmaker. A micrometer is built into the jigs, so extremely fine adjustments are literally at your fingertips—and accurate to 1/1000 in. Made entirely in the USA using local shops and materials, these tools are made to last a lifetime.
Micro Fence offers a complete milling system that works with most routers. There are three core elements that bring accuracy and simplicity to every job—a basic edge guide for straight work, a circle jig for working in the round, and plunge bases that bring that same precision to depth-of-cut settings. Even their smallest tool, the Micro Stop, brings highly accurate repeatability to tablesaw crosscutting, miter saws, bandsaws, shaper fences, router tables, sanding machines…in fact, pretty much anywhere you need to add micro-adjustment.
Visit microfence.com/FWW for an exclusive offer.
Silent-Power Cutter block
The diamond in woodworking that is in a league of its own: The Silent Power Cutter block. Internationally Patented in 2012 just for our Felder, Format4, and Hammer lines. The Silent Power Cutter block is an incredibly quiet, power-saving technology that can even increase your blades' life expectancy by twenty times.
Industry veterans that have used this technology all agree that the quality speaks for itself. It is "the Porsche of the woodworking world."
Setting the gold standard on the market for noise reduction, efficiency, and build, this marvel in Austrian engineering will help take your craft to the next level. Call or email us for more info!
Click here for more information.
PantoRouter Woodworking Machine
The PantoRouter® Woodworking Machine makes joinery fast, accurate, safe, repeatable and fun! Mortise and tenon has never been easier with over 150 perfectly fitting sizes using their patented tapered templates. You can set up and cut angled or compound-angled joints in minutes, virtually dust-free due to the incredibly effective dust collection hood. Go from setup to glue-up in under five minutes in most cases. There's no other tool or jig for woodworkers available today with the straightforward simplicity and the open-source potential to create unique and functional joinery, patterns and designs.
Mortise and tenon
Box joints and dovetails
Safe & easy to use
Ideal for hobby and professional woodworkers or school woodshops
Precision woodworking has never been easier. Visit pantorouter.com to see videos, projects, and accessories and learn more about how others use this unique tool.
Keller Dovetail System
The Keller Dovetail System gives you simple, accurate, fast, and elegant dovetail joinery. This is the original through-dovetail system, precision made in the USA since 1976. No test cuts, no wasted lumber, no fussy adjustments. Set up in 5 minutes with your hand-held router or on your router table, even if the board thicknesses are different. Cut one-off boxes in 12 minutes, or up to 40 drawers per hour in production. Cut unlimited widths, angles, compound angles, box joints, and even curved dovetails.
Click here for more information.
South Bend SB1120 – 5 hp 3-phase variable-speed spindle shaper
Gain the advantage with industrial capacity and high-end features. The 5 hp spindle shapers will give you superb finishes with high-end features and precision-built quality only available from South Bend.
Each model has a digital readout for precise spindle speed and height adjustments, and a micro-adjustable fence with featherboards.
You'll get maximum support for large workpieces plus versatility with a solid 3-3/8 in. thick, 31-1/2 in. by 39-1/4 in. precision-ground cast-iron table that accepts cutters up to 7 in. in diameter.
Additional features include dual dust ports, an included miter gauge, a fully adjustable clear guard, and more.
Where quality and high output matter, choose South Bend for dependability, accuracy, and versatility—and watch your production soar!
Click here for more information
Shaper Origin
Shaper Origin is the world's first, and only, handheld CNC router. You steer Origin while it makes small automatic adjustments to ensure clean and accurate results. Relied on by thousands of woodworkers around the world, the new Complete Origin System recently expanded to include Workstation for all of your joinery needs, as well as Plate; a universal template for Origin that helps install a wide range of hardware, inlays, bowties and free hardware templates from the ShaperHub Hardware Catalog. Bring intuitive precision cutting to your workshop with the Complete Origin System.
Click here for more information.
Rikon 70-1420VSR
The 14" X 20" VARIABLE SPEED MIDI LATHE 70‑1420VSR is the largest benchtop lathe in the RIKON line of machinery. This upgraded model gives woodturners increased spindle-to-bed height so that larger diameter work can be done. The addition of 3 machined surfaces to mount optional extensions increase the working dimensions even further. Use the headstock's outboard threaded spindle and optional 13-1/2 in. Extension (70‑903) to add 4 in. of extra turning diameter capacity. Mount this same extension to the front of the lathe bed, and with the remounted tool rest the outside edges or backs of bowls and platters can be safely turned. Lastly, the right bed end of the lathe is machined to attach the optional 13-1/2 in., or longer 24 in. Extension (70‑901), for increasing the working distance from 20 in. to 44 in. for spindles.
Click here for more information (p.15).
Grizzly T33151 – 5-speed HEPA hanging air filter
Smart sensors detect poor air quality and adjust speed through HEPA and carbon filters.
The T33151 Large Advanced Hanging Air Filter clears the room of the fine dust particles that your dust collection system doesn't capture. Collectively, the HEPA filter captures 99.97% of particles down to 0.3 microns while the activated carbon filter traps odors.
The air filter can be set to operate in five air flow speeds between 800 and 1400 cfm. To cycle through the available speeds, press the Fan Speed button on the control panel or remote control repeatedly.
Click here for more information
Q5 PLATINUM™ System
A key feature unique to the Fuji Spray Q5 Platinum Series turbine is the Variable Speed Control Dial, offering you the ability to adjust the psi/cfm to the optimum adjustment needed to perfectly atomize your coating and reduce the overspray/bounce back to an absolute minimum.
The system includes the 5-Stage Q PLATINUM™ Series Turbine (9.5 PSI), your choice of Professional Grade Non-Bleed Spray Gun with Stainless Steel Fluid Passages, Patented Side-Mounted Fan Pattern Control, Variable Speed Control Dial, Heat Dissipation Chamber, Patented Noise Reduction Technology, 25-ft. Heavy Duty Hose, Quick Connect Coupling & Air Control Valve, Detailed User Manual, #4 Ford Viscosity Cup, Wrench & Cleaning Brush, 2-Year Warranty On Parts & Labor, and a bonus 5 Accessory Pack. You also get a 6-ft. Whip Hose, 19-piece Spray Gun Cleaning Kit, extra turbine filters, Wet Film gauge, and the "Always Measure" Booklet. Go to fujispraysystems.com/Q5 for details.
Click here to see a list of Fuji distributors.
RZ M2 Mesh Mask
The RZ M2 Mesh Mask is the company's second-generation design, and the most popular mask in the lineup. Like all RZ Masks, it features standard F1 filters, blocking 99.9% of particulates down to .1 micron in size. The M2 utilizes a highly breathable, comfortable, and durable mesh fabric construction that helps to keep you cool on even the hottest summer days. It features a single strap hook-and-loop closure, aiding in quick installation and removal of the mask. The adjustable nosepiece prevents condensation from leaking through the top of the mask and the dual one-way discharge valves allow condensation to escape, preventing fogging of safety glasses and reducing moisture inside the mask. The RZ Mask is the mask made for woodworkers!
Click here for information.
WoodRiver Premium Honing Guide
Stay Sharp with the WoodRiver® Premium Honing Guide from Woodcraft®. Now you can repeatedly set your desired sharpening angle and microbevels. Subtle design features set this jig apart, including solidly constructed, black anodized precision machined aluminum jaws. Stainless-steel guide rods and an adjustment screw with a phosphor bronze bushing in a stainless-steel roller bearing help reduce friction and maintain accuracy. The jaw faces hold your blade/chisel tight to the guide rods. The WoodRiver® Premium Honing Guide can hold a bevel edge or standard bench chisel as well as plane irons from 1/4 in. to 2-3/4 in. wide. The included projection block has clear markings featuring the most popular angles, and doubles as a home for the honing guide when not in use.
Click here for more information.