Online Extras from FWW Issue #299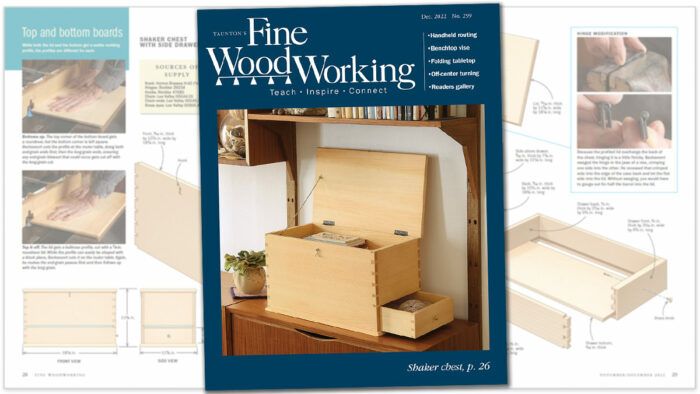 Online extras from FWW issue #299
Looking to start selling your wares at a local market? You might want to listen to the sage advice of Adam Godet, who sells thousands of small goods every year.

Larissa Huff doesn't let a lack of a CNC machine get in her way. All it takes is a good router, the right bit, and lots of practice.

He's built dozens of round Shaker stands over four decades, so there is no one more qualified than Christian Becksvoort to demonstrate making this classic. In this seven-part video series, you'll learn how to:

Turn the wine-bottle post
Shape the legs, softening the edges with a lathe-mounted sanding drum
Hand-cut dovetails to attach the legs to the post
Add a beautiful hand-rubbed finish with oil and varnish

Steve Latta veneers his folding-top table using a vacuum pump. In the pre-industrial age, the task was likely done by hammer veneering, and in this video Steve will show you how.

Beth Ireland shows how to make turned parts like legs or boxes with an elliptical cross-section, or even a triangular one.

Video: What exactly is a climb cut? (Coming 10/5)

Climb cutting when routing can be confusing. In this video we try to clear up the confusion and show some tips for identifying a climb cut and avoiding it.