Online Extras from FWW Issue #298
Online extras from Issue No. 298 of Fine Woodworking magazine. October 2022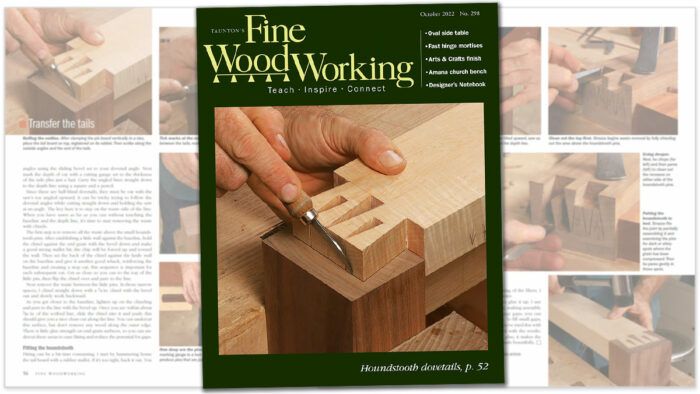 Online extras from FWW issue #298
From open-air spaces to Krenovian escapes, take a closer look into some of Thailand's workshops, which are as varied as its woodworking.

Before Frank Strazza saws his dovetails, he sometimes tunes up with some practice. In this video, Frank demonstrates techniques that can start you on the right path.

Modeled after a Stickley bed, Kevin Rodel's version features Glasgow-style inlay, pierced carving, and tapered posts. As you build it, you'll learn how to:

Use templates to shape the bedposts and top rails
Create curved inlay using bent lamination
Inlay with pewter
Create a decorative piercing with a carved relief

Jameel Abraham demonstrates how to determine the length and angle of a knockdown joint without math.

Michael Pekovich demonstrates the jig he uses to create perfect hinge mortises.

We take a step-by-step look at three Arts and Crafts style finishes, including the one demonstrated by Nancy Hiller.