Online Extras from FWW Issue #297
Online extras from Issue No. 297 of Fine Woodworking magazine. August 2022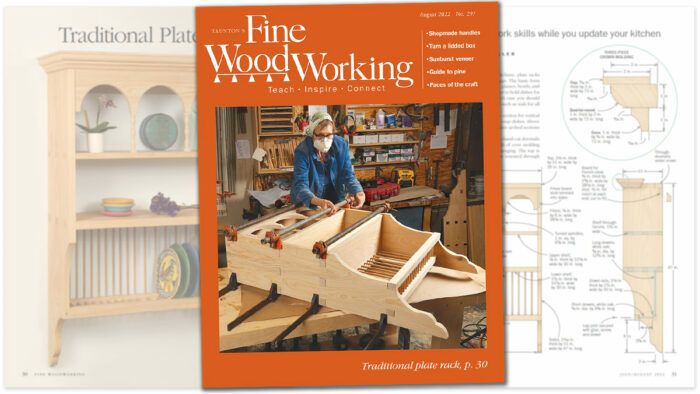 Online extras from FWW issue #297
Whether you're a beginner or a pro, this guide will help you improve your handtool skills while you enjoy the satisfying relationship between tool and wood.

In her new blog series, Chelsea Van Voorhis shows how simple, accessible, and most importantly, how fun working with veneer can be.

With a seemingly endless array of wood stains and dyes on the market, it's very easy to get confused and overwhelmed when adding color to your furniture. Mike Mascelli will help you understand the individual elements of stains and dyes AND demystify the process. In this video workshop, Mike demonstrates:

The differences between stains and dyes

How to add depth to a finish with glazes

 

Perfecting the final color with spray toner

Nancy Hiller shares the backstory of her plate-rack project, which dates to her first professional job as a woodworker in 1980.

Bruce Eaton's brilliant technique for creating a routing template can look tricky at first glance. It isn't. Watch this video to see how simple it really is.