From the bench: A bag of old chisels
The tale of Michael Cullen's sorry old chisels and what some fellow woodworkers did about it.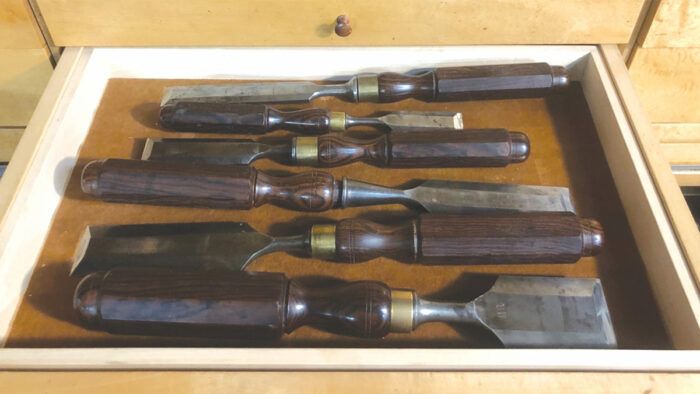 It's early January and my first day back at the workshop after a long time on the road. I'm tuning up tools for the new year. It feels so good to be sharpening and taking in the whole feel of being back in the workshop. The focus that sharpening requires always puts me in the right mindset for the many tasks ahead.
After so many years of woodworking, the majority of my tools come with a story. Twenty-five years ago, I was still working with my apprentice chisels, a set of Marples with blue plastic handles that were anything but fine tools. They were made from soft steel that required constant sharpening. The result, over time, was a set of chisels that had become so short they required special setups on the grinder. In spite of their metallurgical shortcomings and generic looks, they did perform well if kept sharp.
Around that time I gave a talk at my workshop for a local woodworking club. One of the people who attended was John de Marchi, a sculptor, woodworker, and collector of old tools. We had never met, and I learned that evening that John had once owned my classic 1920s Avey drill press, one of my favorite tools. In fact, it turned out that John was the one who did the beautiful restoration of it. That revelation set the tone, and we became good friends. During John's early visits to the workshop he'd constantly make comments about my blue-handled chisels. He truly disliked them and made sure I knew it. Usually, he'd just say, as he shook his head, "How can you work with those things?" Other times he'd simply make a face, which said pretty much everything he felt about them.
Then one day, Wayne, an old student of John's from his days teaching art, dropped by my workshop. I knew Wayne because he had a space in an antique collective right around the corner from my shop where he sold vintage woodworking tools. I had bought quite a few things from him, though never a chisel. On this particular day he arrived carrying a grocery bag and set it on my bench. The only thing he said as he glanced at one of my blue-handled chisels was, "You shouldn't be using those things. Here are some chisels." Then he left.
It was obvious that he and John had been talking and more than likely had hatched a plan. Inside the bag was an amazing assortment of chisels; they were old, and all of them were made of cast steel, before or during the war. The majority were from England and Sweden. There were all different widths; and then along with the bench chisels was a large set of the finest pattern-making chisels I had ever seen. All of them were in decent condition but needed work.
A week later I commissioned John to make London-pattern handles for all of them while I set aside time to flatten the backs, hone the edges, and slowly bring each chisel back to life. I chose bocote as the material for the handles because of its density and toughness. It proved to be a good choice. The weight of the wood brought balance to the tool and the beauty of the rich, dark grain handsomely complemented the cast steel. I soon discovered that the octagonal design of the London pattern not only made the chisel stay put on the bench, but afforded a good grip for stout cuts with the mallet, whereas the narrow neck of the handle down by the ferrule was an excellent place for the fingertips when making very fine cuts.
When I think back, it seems the bag of chisels arrived exactly at the right time. I cut my teeth with the blue-handled ones— sharpened them down to nothing and made countless fine pieces with them. I may not have realized it, but I was ready to do good work with good tools; ones that not only looked beautiful simply resting on the bench, but really held an edge. Now all these years later, there they are, lined up in a tool chest drawer, sharp as can be, and a delight to use.
---
After many years in Petaluma, Calif., Michael Cullen has brought his chisels to Kent, Conn., where he is setting up a new workshop.
Photos: Michael Cullen
More from Michael Cullen