Editor's letter: My friend Nancy Hiller
Anissa Kapsales reflects on the rich life of her friend Nancy Hiller.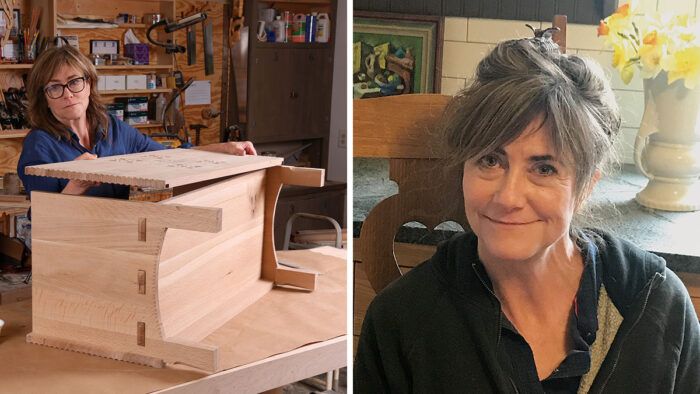 As I sit here striking these keys, it's been a mere 24 hours since I learned my dear friend Nancy Hiller died. It is hard, right now, to find the words to pay tribute to her, though given weeks or even months, it wouldn't be easier. As word of Nancy's passing spreads, social media has been full of posts about her. The outpouring of remembrances, anecdotes, love, and words of admiration is not a surprise. The sheer volume of it, though, overwhelms me. I hope it gives Nancy's family and friends much comfort to know how many people she has impacted in such profound ways. I'm also grateful and struck by the kindness of our woodworking community, the genuine love and support being offered from so many directions.
Some of what I say now I will borrow from what I wrote in a Lost Art Press blog, published in May 2022. If you are reading this, you likely already know of Nancy. For decades she plugged away in a calling where it is difficult to succeed professionally. She wrote countless articles showing how to make gorgeous pieces of furniture, wrote books about designing and woodworking and life, and was a woodworking social media icon. She taught, lectured around the country, and blogged about the realities, joys, trials, and every other aspect of the woodworking life you can imagine.
Through her blogs on FineWoodworking.com and on Lost Art Press, Nancy introduced us all to each other. Naturally curious, interested, and sincere, she had a remarkable knack for seeking out the fascinating aspects of people's lives and writing eloquently about them, bringing us together.
Nancy paved the way for aspiring woodworkers, authors, women in woodworking, and designers. But these last three years, in addition to doing all that, she illuminated a dark path for anybody who struggles—so, all of us. In the same strong, determined, and steady way that she moved through her career, Nancy confronted her pancreatic cancer diagnosis, thinking creatively, managing one obstacle at a time, learning, teaching and advocating, exuding grace through it all.
I was intimidated by Nancy when I started out as an editor in 2006. I was assigned to work with her on the article "Arts & Crafts Wall Shelf." It would be my first (mostly) solo assignment, and I would be traveling to Nancy's shop. On the phone with her it was clear I was out of my intellectual league and every other league I cared about. She was talented, educated, and articulate, and she could woodwork circles around most other pros. She could write quite well, had ridiculous design skills, and was clearly going to be on top of her deadlines. I was a nervous newbie editor/photographer. When I arrived for the shoot, Nancy was all I expected and more. She was kind, thoughtful, very well prepared, humble, professional, accommodating, hilarious, and had an ease about her that started things off on the right foot. We began a long path of friendship that has grown steadily deeper since. We made our way through that shoot and article and today, almost 16 years later, we've done about a dozen more. I often wonder if I had been paired with a different author on that first shoot whether I would have made it past the first year in a job with quite a steep learning curve.
Nancy was known for her smile and that fantastic laugh of hers, and it was my pleasure to capture both every time we worked together! She was never stingy with either, even in the midst of doing the hard work of staying alive. My heart is heavy with the loss, but I am honored to have had Nancy Hiller in my life. I will always love and be in awe of her.
I'm going to go out on a limb that muddles the lines between science, the mystical, and religion. I don't claim to know what happens next. I do know that energy can be neither created nor destroyed—only transformed. Wherever Nancy's limitless energy is, I hope she is feeling all the love pouring toward her.
—Anissa Kapsales, senior editor
| | |
| --- | --- |
| | One of the few women in her profession, she steadily built a quiet but forceful reputation as one of the best cabinetmakers in the country. |