Best-laid plans
Shop move teaches Vic that in woodworking, as in life, it pays to be flexible.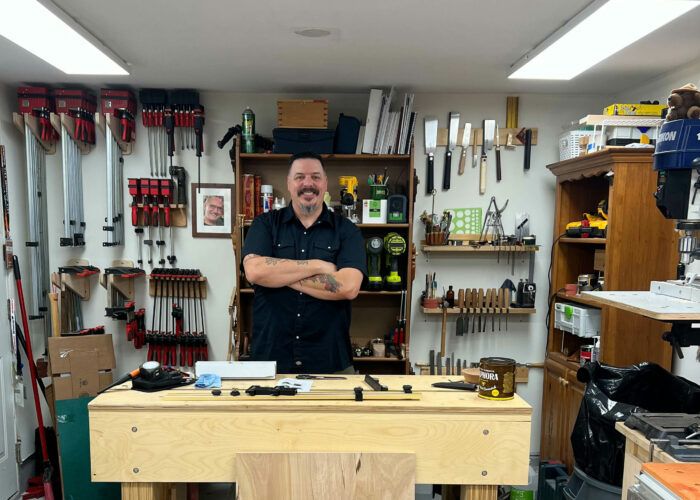 It doesn't always go according to plan. To my mind, this statement is just as important and true as "wood moves." If I had a nickel for every time something changed from my initial plan in woodworking I would be a very wealthy man, even in Canadian currency. The reality is that the best-laid plans may make sense in your head and on paper, but when they start to become real, things can (and should) take a turn.
Take my new shop, for example. I spent a month or two poring over a 1/4-scale drawing of the space I would be turning into the shop. I moved little drawings that represented machines and work stations into many different configurations. I would take a photo of each set-up with my iPhone so that I could compare the pros and cons of each. I even made a scale "Vic" to move around the space to see if I would potentially run into things as I went about my work. 
I have moved shop a few times now, so I thought I had covered every possibility. Every other time I've done this, there were major deviations from the original plan, but I was convinced this time would be different. I had all the angles worked out, all the footprints calculated, and my workflow accounted for. Now all I had to do was move the stuff in and I could get back to woodworking.
The time came and the equipment got loaded in. I was pretty proud of myself and how true to the plan things had worked out. I had my partner Andrea come out to see my handiwork and to pat my ego on the back. Andrea spent less than a minute in the space and said, "what if you put your bench here instead of here?"
"That won't work," I said, "I've already tried that configuration on paper and it won't work."
To which she simply shrugged and went back to unpacking boxes in the house. 
I had been quick to dismiss the idea but when I went back to the photos on my phone, I realized that I hadn't, in fact, tried that configuration. So I went back into the shop to try it out and wouldn't you know, it made perfect sense!
Woodworking (and life in general) is full of situations like this. You can plan all you like but there will be obstacles and curveballs that you can't anticipate that show up and force you to rethink things. In this case, it was moving shop furniture around. Truthfully, I don't think I've ever built anything that went according to plan from start to finish, and that's OK. On paper or the screen, it all works. But when you're in the shop and looking at components, things can change. These changes can stop a woodworker in their tracks and cause a lot of stress, but they are growth and learning opportunities as well. 
My advice is to go with it. Tackle your project according to your ideas but don't be afraid to venture down a road not traveled. Mock up a furniture part from 2-by material to confirm your plan or to go down another path. It's impossible to think of all the possibilities sitting at your sketch pad or computer, so be open to changes. Change can be hard but it can also be rewarding. Don't hold onto your ideas so hard that you are blind to a better solution. Roll with the changes and see where they take you. Remember, in order to understand, you must do.